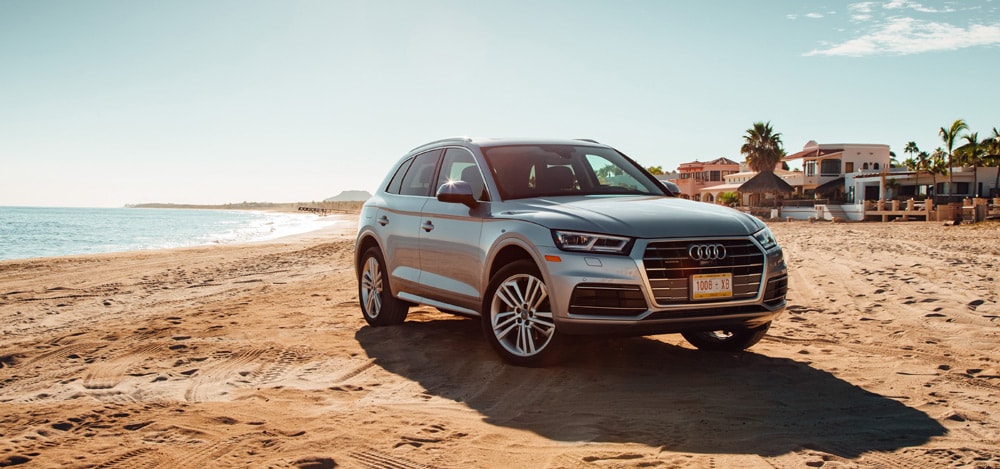 Value and High-Tech Elements Propel the 2018 Audi Q5 Ahead of the Competition
Those in Kalamazoo, Battle Creek, and Portage, MI, looking for a tech-savvy SUV that offers plenty of safety features and space doesn't need to look any further than the 2018 Audi Q5. When drivers in surrounding areas like Plainwell and Three Rivers, MI, get behind the wheel of this pioneering vehicle, they are in for a treat with all that it comes standard with and offers.



While inside the cockpit of the 2018 Audi Q5, innovative technology is all around you. From the available large 12.3-inch instrument cluster that provides you with navigation and numerous infotainment modes to the standard Audi pre sense® basic that can give you more confidence on the road, there is a lot to relish in all while traveling in the SUV. Audi pre sense® basic has the components needed to respond quickly in the event of an emergency. If a collision gets sensed, this feature will take precautions like getting the brake system ready, and start to close the side windows and panoramic sunroof. But, even though all of this may sound enticing, how does the 2018 Audi Q5 look when compared to a competing vehicle like the 2018 BMW X3?




The 2018 Audi Q5 vs. 2018 BMW X3
When looking at the competitor, the 2018 BMW X3 does have agile handling, but the impeccable ride quality and tech-savvy interior that the 2018 Audi Q5 offers is unstoppable. Both SUVs come equipped with an All-Wheel Drive system, but the 2018 Audi Q5 has enhanced power from its 2.0-liter turbocharged TFSI® direct-injection DOHC engine that produces 252 Horsepower compared to the 2018 BMW X3 and its 248 Horsepower from its 2.0-liter engine. The ultra® technology that comes with the All-Wheel Drive system for the 2018 Audi Q5 is able to improve the dynamics of the vehicle, as well as provide your overall ride with more efficiency. You may be able to pay fewer visits to the gas station with the 18.5-gallon fuel tank capacity that the Audi Q5 boasts compared to the competition's 17.2-gallon fuel tank.
When it comes to space, the 2018 Audi Q5 incorporates sliding and split folding rear seats for a versatile set of storage configurations. The 2018 BMW X3 also sports split fold-down rear seats, but when it comes to convenience and comfort, the power-adjustable front seats with four-way power lumbar adjustment that comes standard with the 2018 Audi Q5 is ideal. This is just one of the reasons why the interior of the 2018 Audi Q5 has an edge over the competitor when it comes to luxury. Find out more when you visit Maple Hill Auto!
Take the 2018 Audi Q5 for a Test Drive Today at Maple Hill Auto
If you can picture yourself cruising in the lavish 2018 Audi Q5, don't hesitate to take the luxury SUV out for a spin here at Maple Hill Auto. Once you are ready to purchase or lease a 2018 Audi Q5, our finance team is here to assist you and provide you with a hassle-free financing process from start to finish.

>>> Browse Audi Q5 Inventory