2018 Hyundai Elantra - Packed with Features, Perfect for the Real World
The new 2018 Hyundai Elantra, with clean lines and a strong core, is the ideal compact car that fits your lifestyle.  Young professionals and students will get excited about the stylish look and loads of tech features offered in the Elantra.  Parents will love the safety features and the best in class 10 year, 100,000 mile warranty. 
Let's face it, smartphones are a way of life.  However, you shouldn't have to sacrifice safety to stay connected.  The 2018 Elantra is designed with that thought in mind.  Simply plug in your iPhone or Android and your apps appear right on the large touch screen.  You will have all of the convenience and functionality of your smartphone right at your fingertips so you can keep your eyes on the road..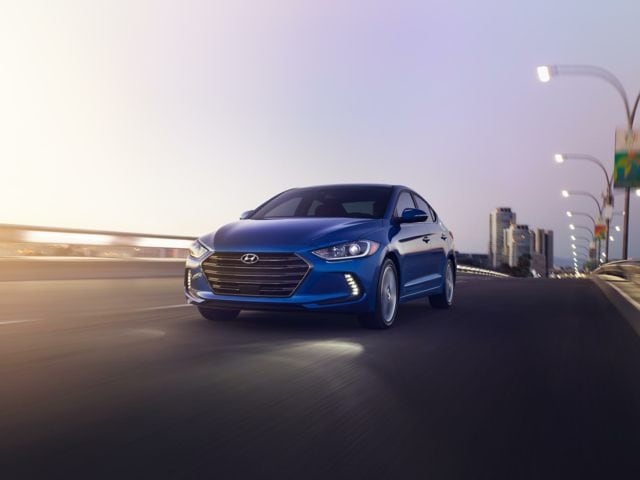 The Elantra also comes with a cutting edge sound system from
Infinity
®
 Premium Audio which will make your favorite music sound even better, and make your friends want to ride with you.
If it's a quite ride you are looking for, the noise, vibration and harshness elimination built into the Elantra will allow you to make phone calls or relax without distractions.
That same body in the 2018 Hyundai Elantra helps keep you safe.  The core of the Elantra is made of high-tensile strength steel to protect driver and passengers.  Other great safety options include blind spot detection, rear cross-traffic alert, review camera, lane departure warning and lane keep assist.  An essential for younger, less-experience drivers it the automatic emergency braking with pedestrian detection.  This cutting edge safety feature gives parents that added peace of mind.
The 2018 Hyundai Elantra is everything you've been looking for in a compact car;  Style, technology, safety coupled with best in class warranty.  Maple Hill Hyundai invites you to test drive the Elantra today.  
Contact Maple Hill Hyundai to Learn More or Go for a Test Drive Today! We're always happy to answer questions about the Hyundai Elantra and send you on a test drive so you can get to know the compact car that is perfect for the real world.
Before You Buy a New Car, Compare the 2018 Hyundai Elantra and the 2018 Toyota Corolla
The 2018 Toyota Corolla is a popular option for car buyers around Kalamazoo, Michigan. However, if you want a sedan that is a step above the ordinary, then we recommend the 2018 Hyundai Elantra which is now for sale and lease at Maple Hill Auto Group. Our experts stand by this model over its competitor because it offers more value overall. To demonstrate, we have drafted a comparison for you below.


2018 Hyundai Elantra VS. 2018 Toyota Corolla
Performance: Driving enjoyment is largely based on how well a car performs. In this realm, the 2018 Hyundai Elantra takes the lead. Its base level engine, the 2.0L Inline 4-Cylinder, produces up to 147 horsepower and 128 pound-feet of torque. Compared to the 132 horsepower and 128 pound-feet of torque generated by the 2018 Toyota Corolla, its output is relatively higher. That means you will have more energy at your disposal with our pick. Even better, you can upgrade to the Hyundai Elantra Sport for access to more power through the 201 horsepower 1.6L Turbocharged Inline 4-Cylinder engine. Otherwise, you can opt for the Hyundai Elantra Eco for an efficiency of 32 city, 40 highway, and 35 combined MPG. In this way, the model of our choice is more likely to match your preferences.
Comfort and Convenience: Another factor that plays a role in your satisfaction is design, and this is another reason why we recommend the 2018 Hyundai Elantra over the 2018 Toyota Corolla. It is built as a standard with structural elements that absorb noise, vibration, and harshness to ensure your rides are always comfortable. It is also optional with HID Headlights with Dynamic Bending Lights, that will enable you to see more clearly around every turn. Not only is its cabin spacious enough to fit 5 people, but its seats are even available with a heated function for both front and back passengers to enjoy. The display on its center console is integrated with Apple CarPlay™ and Android Auto™ too, which makes it easier for everyone to stay connected to more than just the road. These qualities are generally unavailable or cot an extra fee to include on the opposing model.
Safety and Security: Do you like having peace of mind as you drive? Then the 2018 Hyundai Elantra should be at the top of your list. Last year, it was recognized as a 2017 IIHS Top Safety Pick+ because it has the properties necessary to look out for your best interest. For instance, it is available with a Blind Spot Detection technology that you will not find with the 2018 Toyota Corolla. Furthermore, this model is bundled with America's Best Warranty™. Specifically, its Basic Warranty covers 60 months/60K miles and its Powertrain Warranty covers 120 months/100K miles. In contrast, the Toyota Basic Warranty and Powertrain Warranty only covers 36 months/36K miles and 60 months and 60K miles, respectively. As you can see, this coverage is far less than the Hyundai!
Get the New 2018 Hyundai Elantra in Kalamazoo, MI.
Taking all this into consideration along with the fact that the Hyundai model is more affordable as well, it is easy to see that you can get more with this new Hyundai car than the 2018 Toyota Corolla. Need more convincing? Then head on over to our Hyundai dealership in Kalamazoo, Michigan. Our specialists will give you a complete overview as to what is offered and will let you take one out for a test drive! That way, your decision is based on firsthand experience. At the end of the day, we are sure that those who choose to buy or lease this sedan will leave fully satisfied!
>>>> Hyundai Elantra Inventory
Make an Inquiry
* Indicates a required field